How to Maintain Optimal Health and Energy with Workplace Ergonomics
How to Maintain Optimal Health and Energy with Workplace Ergonomics
Written By South Centre Chiropractic Clinic & Summerside Chiropractic on July 24, 2020
---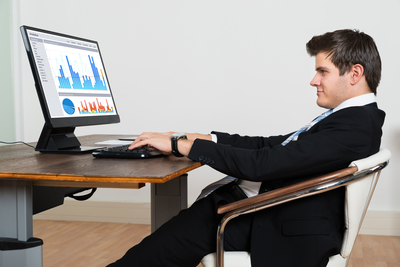 Whether at work, socializing, or traveling, Americans are sitting more than ever before. With sedentary office jobs increasing 83% since 1950 alone, adults are sitting a whopping 15 hours per day. While sitting may not sound like a bad habit, it can cause various musculoskeletal problems like back pain, neck pain, carpal tunnel, spinal disc hernias, and more.
If you're experiencing stiffness or soreness after sitting in an office all day, workplace ergonomics offers a solution to improve work posture and boost your energy levels throughout the day.
What are Workplace Ergonomics?
Workplace ergonomics reduce fatigue, strain, and injuries within the office environment by improving product design and arrangements. These arrangements include properly positioning your chair, desk, monitor, keyboard, and mouse to avoid musculoskeletal problems over time and improve posture.
With the proper workplace ergonomic setup, your body will experience less straining, slouching, and reaching to improve your productivity during the day.
4 Steps to Improve Your Work Posture with Ergonomics
To create a more safe, comfortable, and productive environment, adopt workplace ergonomics into your office. However, it's important to note that each person's body and occupation have different ergonomic needs. To get started, consider the following steps:
Understand ergonomic injuries: Focuses on soft tissue injuries that result in reduced functionality
Identify challenges: Observe the office environment, assess risk, and find solutions to minimize your exposure
Set up a workstation: Adjust office equipment to be level with your neck, shoulders, and back with feet firmly on the ground to reduce repetitive motions and strain
Select the right equipment: Source furniture that can be adjustable for an individuals height, weight, strength, and performance
Along with adopting ergonomic design, it's also essential to incorporate more standing and sitting throughout your day to avoid strain.
Improving Posture in Edmonton
Are you still experiencing soreness and stiffness after a long day? You could benefit from a chiropractor to improve your posture and range of motion. The doctors at Summerside & South Centre Chiropractic Clinic will develop a personalized treatment plan based on your lifestyle and medical history so you can achieve long-term wellness.
To schedule an appointment, contact South Centre Chiropractic Clinic at 780-432-1400 or Summerside Chiropractic at 780-705-0991 today.

Posted In: Chiropractic Work-Related Injuries Workplace Ergonomics