Is Spinal Decompression Painful?
Is Spinal Decompression Painful?
Written By South Centre Chiropractic Clinic & Summerside Chiropractic on November 30, 2021
---
What Is Spinal Decompression?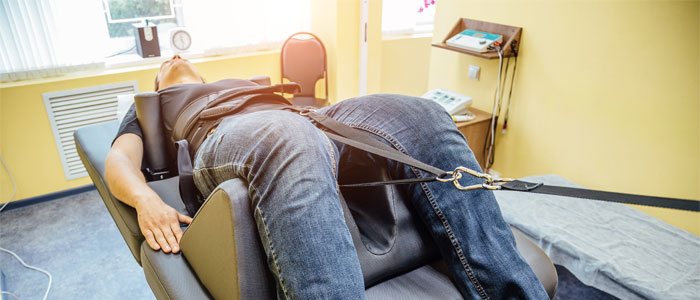 Spinal decompression is a non-invasive alternative to surgery and prescription drugs to alleviate back pain. However, unlike medication, spinal decompression addresses the root cause of your pain by stretching and aligning your spine back to its natural and normal state. This not only relieves your current pain, but lessens the likelihood of more pain and discomfort in the future.
Dr. Darrell Morin and Dr. Max Dekterov have been helping patients solve back issues through spinal decompression for years, and one of the questions they get asked the most is, "Does it hurt?"
Good news: It shouldn't!
Does Spinal Decompression Hurt?
Your spinal decompression therapy should not hurt, and most patients who undergo this kind of treatment report that they do not feel any pain at all. You will, however, feel some movement as your spine is stretched and pressure is relieved from the discs that lie between your vertebrae.
Although spinal decompression doesn't hurt on its own, it's possible for you to feel some discomfort if you are already in pain as you undergo therapy. In general, though, spinal decompression is so gentle, some patients even fall asleep on the table!
If you do end up feeling a little discomfort during your decompression session, let us know so we can adjust the machine so you can experience the many benefits that when you're done. Chief among these are reduced neck and back pain, as well as a healthy spine less susceptible to pain in the future! Call us today to start your journey to pain relief.
An Experienced Chiropractor Will Lessen Your Chance of Pain
The best way to ensure that you experience minimal discomfort during spinal decompression is to visit a qualified and experienced chiropractor. Dr. Morin, for example, has been practicing in Alberta for 26 years and has mastered the gentle art of spinal decompression.
What to Expect During Spinal Decompression Treatment
Well before your decompression treatment, you will work with Dr. Morin or Dr. Dekterov to get behind the cause of your pain, as well as its severity. This will determine the correct course of treatment for you. Spinal decompression is done on a specialized table that's attached to a computer. One half of the table, along with your body, gently moves to stretch your spine. Some patients experience relief as soon as their session is over.
Schedule an Appointment Today
With spinal decompression therapy, you have nothing to experience but relief! If you're anxious that it will hurt, keep in mind that at South Centre Chiropractic Clinic and Summerside Chiropractic, spinal decompression is gentle, non-invasive, and supervised by some of Alberta's finest doctors of chiropractic.
Contact Summerside Chiropractic at 780-705-0991 or South Centre Clinic at 780-432-1400, and schedule an evaluation today!

Posted In: Chiropractic Natural Pain Relief Low Back Pain Spinal Decompression