We are still here for you!
We are still here for you!
Written By South Centre Chiropractic Clinic & Summerside Chiropractic on April 20, 2020
---
To all of our Patients, current & new,

As we enter the sixth week of the COVID-19 pandemic in Alberta we hope you & your family are keeping well.
***We are still in the office with modified hours and sanitizing procedures***
We have implemented many changes to both Summerside & South Centre Chiropractic clinics. In accordance with the Chief Medical Officer, Dr. Hinshaw's press release on Friday March 27th2020, we are available for urgent and emergency care.

To clarify what this means, we are only accepting visits from patients that have called in and communicated with our chiropractic assistants for screening. We are operating by appointment only to ensure adequate social (physical) distancing. If your request is deemed non-urgent or you are wanting to book a wellness visit, we are unable to accommodate that at this time. We will connect for non-urgent health care when restrictions are lifted by Alberta Health Services and/or the Chief Medical Officer.

If you obtain an appointment based on the criteria, please note we have enhanced our existing hygiene and health practices, including disinfecting all touch surfaces after every visit and sanitizing adjusting tables between patients with appropriate alcohol cleaners. Hand sanitizers are throughout our clinics all to ensure a sanitized, clean environment for your safety and ours.


Mandatory steps if you have an appointment for Urgent or Emergency Care:

-read the directives on the front door of the clinics, prior to entering
-please use the hand sanitizer located between the main doors before entering and upon leaving the clinic
-appointments are spaced out to ensure physical distancing
-please stay 6 feet away from our chiropractic assistants
-touch surfaces and treatment tables are being sanitized after every patient visit
-hand sanitizer is available at the front & in each treatment room
-if you prefer to wash your hands with soap, our CA's will show you to the washroom
-Drs. Morin and Langley will have masks available to wear during the adjustment visit. Drs. will be sanitizing or washing their hands prior to each visit
-please ensure you communicate with our clinic if you are feeling ill in any way regardless if the appointment is urgent or for emergency care.


Please follow us on Facebook for the latest clinic news, we update our social feeds on a regular basis.
Facebook: https://www.facebook.com/WellnessDoc.ca/
Twitter: https://twitter.com/WellnessDoc2
Instagram: https://www.instagram.com/wellnessdocchiro/

Thank you for your patience through these unprecedented times and know we are doing what is best for the community at large by following the advice of the Chief Medical Officer while still providing care to those in need.

Dr. Darrell J. Morin B.Sc. D.C.
Chiropractor & Clinic Director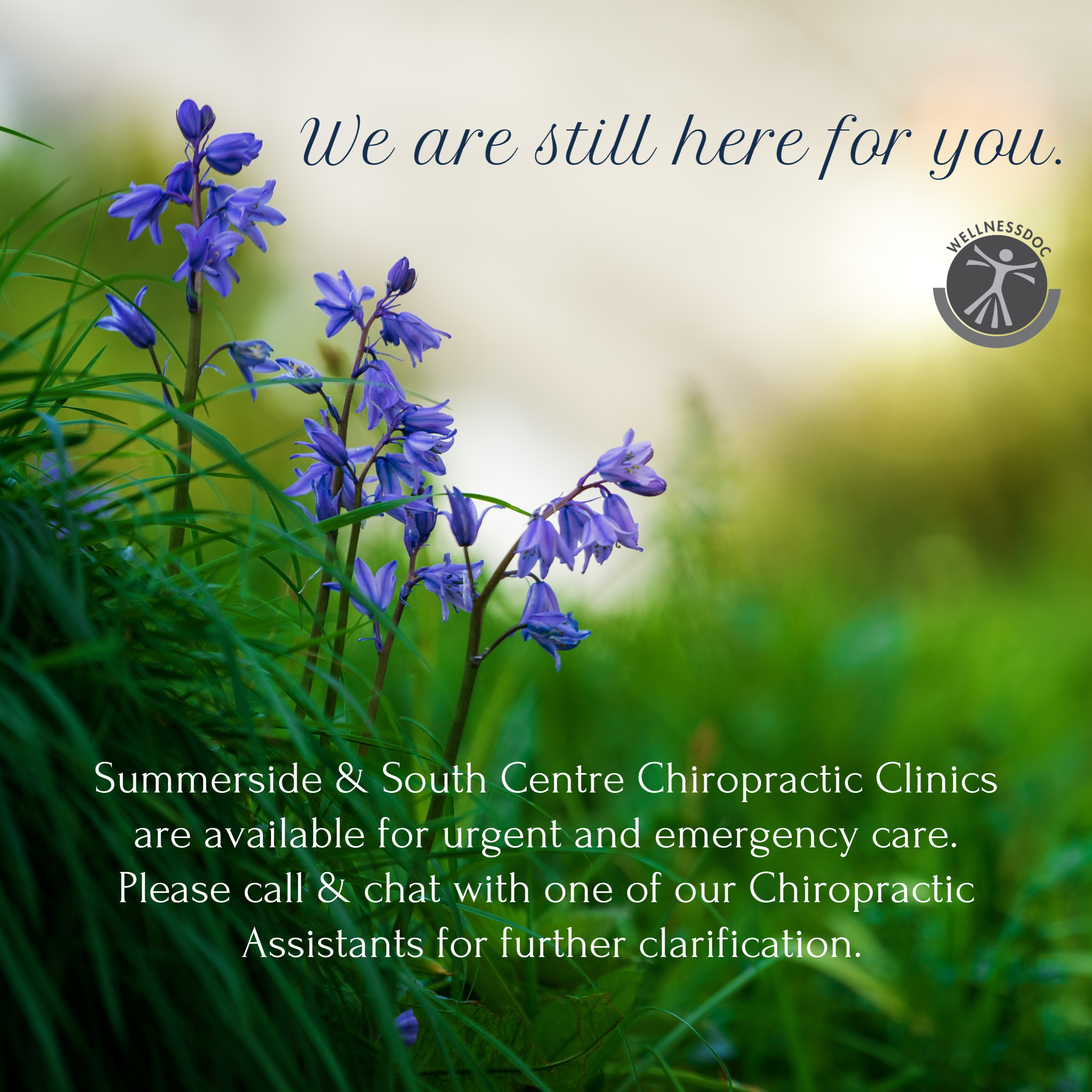 Summerside Chiropractic Clinic 780-705-0991
South Centre Chiropractic Clinic 780-432-1400

Posted In: Dr. Darrell's Blog